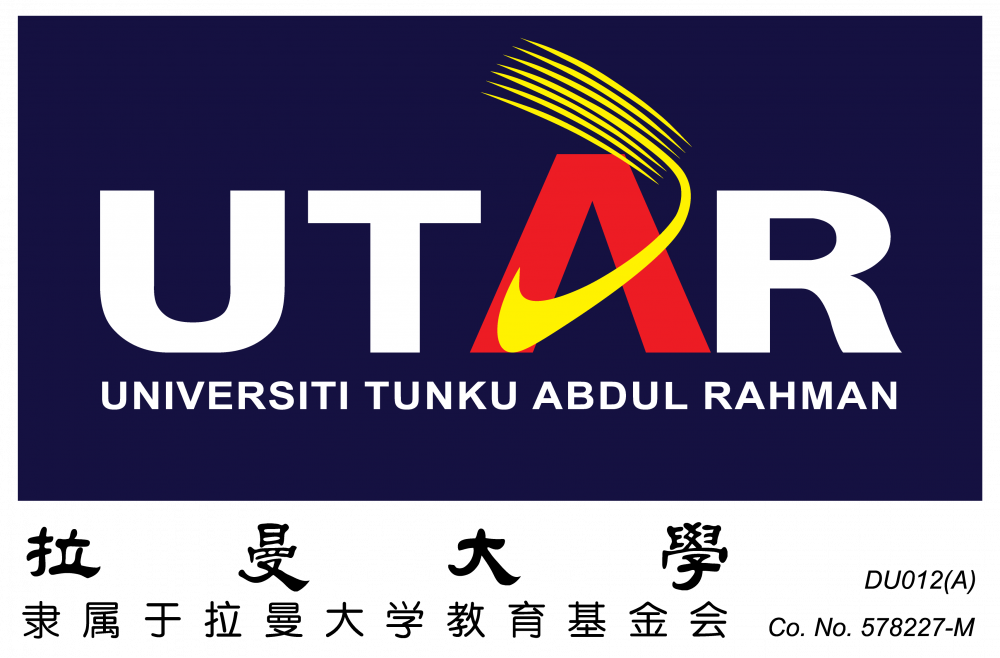 Introduction to University
The Faculty of Medicine and Health Sciences, Universiti Tunku Abdul Rahman (UTAR) was established on 16th November 2009 at its Sungai Long Campus offering programmes in Chinese Medicine, MBBS, Nursing and Physiotherapy. It aspires to be the preferred centre of education and research for medical and health sciences. The Faculty is devoted to provide a conducive environment for the acquisition of knowledge and skills for effective clinical practice; develop values and attitudes of dedication, ethics and professionalism in the delivery of healthcare; and produce graduates who would serve and improve the quality of life of the community.
UTAR is a leading private university in Malaysia and has established itself as an institution delivering excellence in teaching and research. UTAR is a not-for-profit university dedicated to providing affordable quality higher education to students from all over the world. UTAR has two campuses – the Kampar Campus in Perak and the Sungai Long Campus in Selangor
| | | |
| --- | --- | --- |
| Year of Establishment | : | 2002 |
| Current President/Principal | : | Ir. Prof. Dr. Ewe Hong Tat |
| Number of Students | : | 22,000+ |
| Number of Teaching Resources | : | 2,000+ |
| Facilities | : | Libraries, classrooms, lecture theatres, multipurpose halls, laboratories and workshops, multimedia/computer labs, wireless internet, stationery shops, sport facilities, disable facilities, cafeterias, clinic, physiotherapy centre, gyms, student activities centres, bank/ATM machines, E-Commerce Delivery Centre, etc. |
| Student Welfare | : | Campus security, school buses, extracurriculum activities including participation in the club and society activities, community projects and sports, student mobility programmes, counselling and guidance services, job placement and guidance services, internship placement, etc. |
Features:
Ranked globally in Times Higher Education (THE) and QS World University Ranking.
More than 110 programmes in a wide range of fields of study.
Programmes recognised by the Ministry of Higher Education (MOHE), the Malaysian Qualifications Agency (MQA) and over 20 leading professional bodies.
Affordable fees with scholarships and loans available.
Compulsory industrial training for student experimental learning.
Student exchange or study tour opportunities with more than 260 universities across the globe including 92 China universities.
Impressive 95-97% graduate employability rate within 6 months of graduation.
Achievement:
#157 in the QS Asia University Rankings 2021
# 501-600 in the Times Higher Education (THE) World University Rankings 2021
# 119 in the Times Higher Education (THE) Asia University Rankings 2020
# 201-300 in the Times Higher Education (THE) University Impact Rankings 2020
#601-800 in the Times Higher Education (THE) World University Rankings 2020 for Engineering and Technology.
#501+ in the Times Higher Education (THE) World University Rankings 2020 for Business and Economics
#251-300 in the QS World University Graduate Employability Rankings 2020
Awarded Self-accreditation status by the Malaysian Qualifications Agency in 2017
5-Star (Excellent) under the Rating System for Malaysian Higher Education Institutions 2017 (SETARA'17)
Tier 5 (Excellent) in D-SETARA for Engineering
Tier 4 (Very Good) in D-SETARA for Health Sciences
Recognised as the "Premier Digital Tech University" by Malaysian Digital Economy Corporation (MDEC)
STPM: Grade C in 2-3 in the relevant subjects, depending on the programmes, or
UEC: Grade B in 5 relevant subjects, or
A-Level: Grade E in 2-3 in the relevant subjects, depending on the programmes, or
SAM: ATAR 70 and Grade B in at least 2 relevant subjects, or
CPU: An average of 70% in 6 relevant subjects, or
SPM 5 credits to follow UTAR Foundation, or
Matriculation Certificate, Ministry of Education, or
Other equivalent qualifications.
Sungai Long Campus: RM630-RM1,080/month
Kampar Campus: RM880-RM1,700/month
Renting room outside. UTAR Department of Student Affairs will provide list of accommodation for new students to refer and contact.
University provides bus services. It is convenient to access to public transports, taxi, e-hailing service, MRT/train service, etc.
University provides in-campus cafeteria, clinic, physiotherapy centre, gym, book shop, student activity centre, bank/ATM, E-Commerce Delivery Centre, etc.
UTAR Scholarships for Top Achievers
UTAR UEC Scholarship
UTAR Sport Scholarship
UTAR Talent Scholarship
Faculty
Programme Name
Level
Field
Major
Year
Local Fee
Minimum Entry Requirements
Scholarship
SPM
0-level
STPM
A-Level
UEC
Centre for Foundation Studies
Foundation in Arts
Foundation
Foundation in Arts
Accountancy and Management Arts and Social Science (Chinese Studies) Arts and Social Science (Social Science) Arts and Social Science (Graphic Design and Multimedia, Game Design and Architecture)
1 year
RM10,150
5C
5C
-
-
3B
Yes
Centre for Foundation Studies
Foundation in Science
Foundation
Foundation in Science
Biological Science Physical Science (Engineering Science) Physical Science (Technological Science)
1 year
RM10,400
5C
5C
-
-
3B
Yes
Faculty
Programme Name
Level
Field
Major
Year
Local Fee
Minimum Entry Requirements
Scholarship
SPM
0-level
STPM
A-Level
UEC
Faculty of Medicine and Health Science
Bachelor of Chinese Medicine (Hons)
Bachelor
Medicine & Health Sciences
Chinese Medicine
5 years
RM87,350
-
-
2C
2D
5B
Yes
Faculty of Medicine and Health Science
Bachelor of Medicine and Bachelor of Surgery (M.B.B.S.)
Bachelor
Medicine & Health Sciences
Medicine and Bachelor of Surgery (M.B.B.S.)
5 years
RM260,150
-
-
2C
3D
5B
Yes
Faculty of Medicine and Health Science
Bachelor of Nursing (Honours)
Bachelor
Medicine & Health Sciences
Nursing
4 years
RM66,050
-
-
2C
3D
5B
Yes
Faculty of Medicine and Health Science
Bachelor of Physiotherapy (Hons)
Bachelor
Medicine & Health Sciences
Physiotherapy
4 years
RM65,650
-
-
2C
2D
5B
Yes
Faculty of Science
Bachelor of Science (Hons) Biomedical Science
Bachelor
Medicine & Health Sciences
Biomedical Science
3.5 years
RM50,450
-
-
2C
2D
5B
Yes
Faculty of Science
Bachelor of Science (Hons) Dietetics
Bachelor
Medicine & Health Sciences
Dietetics
4 years
RM50,550
-
-
2C
2D
5B
Yes
Faculty of Science
Bachelor of Science (Hons) Agricultural Science
Bachelor
Agriculture & Food Science
Agricultural Science
3 years
RM45,000
-
-
2C
2D
5B
Yes
Faculty of Science
Bachelor of Science (Hons) Food Science
Bachelor
Agriculture & Food Science
Food Science
3 years
RM45,000
-
-
2C
2D
5B
Yes
Faculty of Science
Bachelor of Science (Hons) Biochemistry
Bachelor
Life & Physical Sciences
Biochemistry
3 years
RM45,000
-
-
2C
2D
5B
Yes
Faculty of Science
Bachelor of Science (Hons) Biotechnology
Bachelor
Life & Physical Sciences
Biotechnology
3 years
RM44,950
-
-
2C
2D
5B
Yes
Faculty of Science
Bachelor of Science (Hons) Chemistry
Bachelor
Life & Physical Sciences
Chemistry
3 years
RM45,000
-
-
2C
2D
5B
Yes
Faculty of Science
Bachelor of Science (Hons) Microbiology
Bachelor
Life & Physical Sciences
Microbiology
3 years
RM44,950
-
-
2C
2D
5B
Yes
Faculty of Science
Bachelor of Science (Hons) Logistics and International Shipping
Bachelor
Actuarial Science, Mathematics & Process Management
Logistics and International Shipping
3 years
RM42,700
-
-
2C
2D
5B
Yes
Faculty of Science
Bachelor of Science (Hons) Statistical Computing and Operation Research
Bachelor
Actuarial Science, Mathematics & Process Management
Statistical Computing and Operation Research
3 years
RM42,700
-
-
2C
2D
5B
Yes
Faculty of Engineering and Green Technology
Bachelor of Engineering (Honours) Electronic Engineering
Bachelor
Engineering, Technology & Build Environment
Electronic Engineering
4 years
RM51,750
-
-
2C
2D
5B
Yes
Faculty of Engineering and Green Technology
Bachelor of Engineering (Honours) Environmental Engineering
Bachelor
Engineering, Technology & Build Environment
Environmental Engineering
4 years
RM51,900
-
-
2C
2D
5B
Yes
Faculty of Engineering and Green Technology
Bachelor of Engineering (Honours) Industrial Engineering
Bachelor
Engineering, Technology & Build Environment
Industrial Engineering
4 years
RM51,650
-
-
2C
2D
5B
Yes
Faculty of Engineering and Green Technology
Bachelor of Engineering (Honours) Petrochemical Engineering
Bachelor
Engineering, Technology & Build Environment
Petrochemical Engineering
4 years
RM52,050
-
-
2C
2D
5B
Yes
Faculty of Engineering and Green Technology
Bachelor of Science (Hons) Construction Management
Bachelor
Engineering, Technology & Build Environment
Construction Management
3 years
RM45,200
-
-
2C
2D
5B
Yes
Faculty of Engineering and Green Technology
Bachelor of Technology (Honours) in Electronic Systems
Bachelor
Engineering, Technology & Build Environment
Electronic Systems
3 years
RM47,450
-
-
2C
2D
5B
Yes
Faculty of Engineering and Green Technology
Bachelor of Technology (Honours) in Industrial Management
Bachelor
Engineering, Technology & Build Environment
Industrial Management
3 years
RM44,100
-
-
2C
2D
5B
Yes
Faculty of Engineering and Green Technology
Bachelor of Science (Hons) Environmental, Occupational Safety and Health
Bachelor
Medicine & Health Sciences
Environmental, Occupational Safety and Health
4 years
RM50,850
-
-
2C
2D
5B
Yes
Lee Kong Chian Faculty of Engineering and Science
Bachelor of Science (Hons) Actuarial Science
Bachelor
Actuarial science,Mathematics & Process Management
Actuarial Science
3 years
RM42,900
-
-
2C
2D
5B
Yes
Lee Kong Chian Faculty of Engineering and Science
Bachelor of Science (Hons) Applied Mathematics with Computing
Bachelor
Actuarial science,Mathematics & Process Management
Applied Mathematics with Computing
3 years
RM42,900
-
-
2C
2D
5B
Yes
Lee Kong Chian Faculty of Engineering and Science
Bachelor of Science (Hons) Financial Mathematics
Bachelor
Actuarial science,Mathematics & Process Management
Financial Mathematics
3 years
RM42,900
-
-
2C
2D
5B
Yes
Lee Kong Chian Faculty of Engineering and Science
Bachelor of Science (Hons) Software Engineering
Bachelor
Information and Communication Technology
Software Engineering
3 years
RM42,600
-
-
2C
2D
5B
Yes
Lee Kong Chian Faculty of Engineering and Science
Bachelor of Engineering (Honours) Biomedical Engineering
Bachelor
Engineering, Technology & Built Environment
Biomedical Engineering
4 years
RM51,750
-
-
2C
2D
5B
Yes
Lee Kong Chian Faculty of Engineering and Science
Bachelor of Engineering (Honours) Chemical Engineering
Bachelor
Engineering, Technology & Built Environment
Chemical Engineering
4 years
RM51,750
-
-
2C
2D
5B
Yes
Lee Kong Chian Faculty of Engineering and Science
Bachelor of Engineering (Honours) Civil Engineering
Bachelor
Engineering, Technology & Built Environment
Civil Engineering
4 years
RM51,750
-
-
2C
2D
5B
Yes
Lee Kong Chian Faculty of Engineering and Science
Bachelor of Engineering (Honours) Electronics (Computer Networking)
Bachelor
Engineering, Technology & Built Environment
Electronics (Computer Networking)
4 years
RM51,500
-
-
2C
2D
5B
Yes
Lee Kong Chian Faculty of Engineering and Science
Bachelor of Engineering (Honours) Electronic and Communications Engineering
Bachelor
Engineering, Technology & Built Environment
Electronic and Communications Engineering
4 years
RM51,650
-
-
2C
2D
5B
Yes
Lee Kong Chian Faculty of Engineering and Science
Bachelor of Engineering (Honours) Electrical and Electronic Engineering
Bachelor
Engineering, Technology & Built Environment
Electrical and Electronic Engineering
4 years
RM51,650
-
-
2C
2D
5B
Yes
Lee Kong Chian Faculty of Engineering and Science
Bachelor of Engineering (Honours) Materials and Manufacturing Engineering
Bachelor
Engineering, Technology & Built Environment
Materials and Manufacturing Engineering
4 years
RM51,750
-
-
2C
2D
5B
Yes
Lee Kong Chian Faculty of Engineering and Science
Bachelor of Engineering (Honours) Mechanical Engineering
Bachelor
Engineering, Technology & Built Environment
Mechanical Engineering
4 years
RM51,750
-
-
2C
2D
5B
Yes
Lee Kong Chian Faculty of Engineering and Science
Bachelor of Engineering (Honours) Mechatronics Engineering
Bachelor
Engineering, Technology & Built Environment
Mechatronics Engineering
4 years
RM51,650
-
-
2C
2D
5B
Yes
Lee Kong Chian Faculty of Engineering and Science
Bachelor of Science (Hons) Architecture
Bachelor
Engineering, Technology & Built Environment
Architecture
3 years
RM45,050
-
-
2C
2D
5B
Yes
Lee Kong Chian Faculty of Engineering and Science
Bachelor of Science (Hons) Quantity Surveying
Bachelor
Engineering, Technology & Built Environment
Quantity Surveying
4 years
RM48,450
-
-
2C
3D
5B
Yes
Lee Kong Chian Faculty of Engineering and Science
Bachelor of Science (Hons) Physics
Bachelor
Life & Physical Sciences
Physics
3 years
RM44,150
-
-
2C
2D
5B
Yes
Faculty of Information and Communication Technology
Bachelor of Computer Science (Hons)
Bachelor
Information and Communication Technology
Computer Science
3 years
RM43,100
-
-
2C
2D
5B
Yes
Faculty of Information and Communication Technology
Bachelor of Information Systems (Hons) Business Information Systems
Bachelor
Information and Communication Technology
Business Information Systems
3 years
RM43,100
-
-
2C
2D
5B
Yes
Faculty of Information and Communication Technology
Bachelor of Information Systems (Hons) Information Systems Engineering
Bachelor
Information and Communication Technology
Information Systems Engineering
3 years
RM43,100
-
-
2C
2D
5B
Yes
Faculty of Information and Communication Technology
Bachelor of Information Technology (Hons) Communications and Networking
Bachelor
Information and Communication Technology
Communications and Networking
3 years
RM42,800
-
-
2C
2D
5B
Yes
Faculty of Information and Communication Technology
Bachelor of Information Technology (Hons) Computer Engineering
Bachelor
Information and Communication Technology
Computer Engineering
3 years
RM43,100
-
-
2C
2D
5B
Yes
Faculty of Business and Finance
Bachelor of Business Administration (Honours)
Bachelor
Accounting, Business and Economics
Business Administration
3 years
########
-
-
2C
2D
5B
Yes
Faculty of Business and Finance
Bachelor of Business Administration (Hons) Banking and Finance
Bachelor
Accounting, Business and Economics
Banking and Finance
3 years
RM41,700
-
-
2C
2D
5B
Yes
Faculty of Business and Finance
Bachelor of Business Administration (Hons) Entrepreneurship
Bachelor
Accounting, Business and Economics
Entrepreneurship
3 years
RM41,700
-
-
2C
2D
5B
Yes
Faculty of Business and Finance
Bachelor of Business Administration (Hons) Retail Management
Bachelor
Accounting, Business and Economics
Retail Management
3 years
RM41,700
-
-
2C
2D
5B
Yes
Faculty of Business and Finance
Bachelor of Commerce (Hons) Accounting
Bachelor
Accounting, Business and Economics
Accounting
3 years
RM43,700
-
-
2C
2D
5B
Yes
Faculty of Business and Finance
Bachelor of Economics (Hons) Financial Economics
Bachelor
Accounting, Business and Economics
Financial Economics
3 years
RM41,650
-
-
2C
2D
5B
Yes
Faculty of Business and Finance
Bachelor of Finance (Hons)
Bachelor
Accounting, Business and Economics
Finance
3 years
RM41,700
-
-
2C
2D
5B
Yes
Faculty of Business and Finance
Bachelor of Marketing (Hons)
Bachelor
Accounting, Business and Economics
Marketing
3 years
RM41,700
-
-
2C
2D
5B
Yes
Faculty of Accountancy and Management
Bachelor of Accounting (Hons)
Bachelor
Accounting, Business and Economics
Accounting
4 years
RM49,200
-
-
2C
2D
5B
Yes
Faculty of Accountancy and Management
Bachelor of Building and Property Management (Hons)
Bachelor
Accounting, Business and Economics
Building and Property Management
3 years
RM43,300
-
-
2C
2D
5B
Yes
Faculty of Accountancy and Management
Bachelor of Economics (Hons) Global Economics
Bachelor
Accounting, Business and Economics
Global Economics
3 years
RM43,050
-
-
2C
2D
5B
Yes
Faculty of Accountancy and Management
Bachelor of International Business (Hons)
Bachelor
Accounting, Business and Economics
International Business
3 years
RM43,400
-
-
2C
2D
5B
Yes
Faculty of Arts and Social Science
Bachelor of Arts (Hons) English Education
Bachelor
Arts, Social Sciences and Education
English Education
3 years
RM40,100
-
-
2C
2D
5B
Yes
Faculty of Arts and Social Science
Bachelor of Arts (Hons) English Language
Bachelor
Arts, Social Sciences and Education
English Language
3 years
RM40,350
-
-
2C
2D
5B
Yes
Faculty of Arts and Social Science
Bachelor of Communication (Hons) Journalism
Bachelor
Arts, Social Sciences and Education
Journalism
3 years
RM42,100
-
-
2C
2D
5B
Yes
Faculty of Arts and Social Science
Bachelor of Communication (Hons) Advertising
Bachelor
Arts, Social Sciences and Education
Advertising
3 years
RM42,450
-
-
2C
2D
5B
Yes
Faculty of Arts and Social Science
Bachelor of Communication (Hons) Public Relations
Bachelor
Arts, Social Sciences and Education
Public Relations
3 years
RM42,100
-
-
2C
2D
5B
Yes
Faculty of Arts and Social Science
Bachelor of Social Science (Hons) Guidance and Counselling
Bachelor
Arts, Social Sciences and Education
Guidance and Counselling
4 eyars
RM46,600
-
-
2C
2D
5B
Yes
Faculty of Arts and Social Science
Bachelor of Social Science (Hons) Psychology
Bachelor
Arts, Social Sciences and Education
Psychology
3 years
RM43,150
-
-
2C
2D
5B
Yes
Institute of Chinese Studies
Bachelor of Arts (Hons) Chinese Studies
Bachelor
Chinese Studies
Chinese Studies
3 years
RM40,800
-
-
2C
2D
5B
Yes
Faculty of Creative Industries
Bachelor of Arts (Hons) Journalism in Chinese Media
Bachelor
Arts,Social Sciences And Education
Journalism in Chinese Media
3 years
RM42,400
-
-
2C
2D
5B
Yes
Faculty of Creative Industries
Bachelor of Corporate Communication (Hons)
Bachelor
Arts,Social Sciences And Education
Corporate Communication
3 years
RM42,400
-
-
2C
2D
5B
Yes
Faculty of Creative Industries
Bachelor of Early Childhood Education (Hons)
Bachelor
Arts,Social Sciences And Education
Early Childhood Education
3 years
RM42,200
-
-
2C
2D
5B
Yes
Faculty of Creative Industries
Bachelor of Arts (Hons) Digital Animation
Bachelor
Creative Industries & Design
Digital Animation
3 years
RM42,100
-
-
2C
2D
5B
Yes
Faculty of Creative Industries
Bachelor of Arts (Hons) Game Design
Bachelor
Creative Industries & Design
Game Design
3 years
RM42,450
-
-
2C
2D
5B
Yes
Faculty of Creative Industries
Bachelor of Arts (Hons) Graphic Design and Multimedia
Bachelor
Creative Industries & Design
Graphic Design and Multimedia
3 years
RM42,400
-
-
2C
2D
5B
Yes
Faculty of Creative Industries
Bachelor of Communication (Hons) Broadcasting
Bachelor
Creative Industries & Design
Broadcasting
3 years
RM42,650
-
-
2C
2D
5B
Yes
Faculty of Creative Industries
Bachelor of Media and Creative Studies (Hons)
Bachelor
Creative Industries & Design
Media and Creative Studies
3 years
RM42,450
-
-
2C
2D
5B
Yes
Faculty of Creative Industries
Bachelor of Science (Hons) Game Development
Bachelor
Creative Industries & Design
Game Development
3 years
RM41,800
-
-
2C
2D
5B
Yes
| | | | | | | | | | |
| --- | --- | --- | --- | --- | --- | --- | --- | --- | --- |
| Faculty | Programme Name | Level | Field | Major | Year | Local Fee | Mode of Studies | Minimum Entry Requirements | Scholarship |
| Faculty of Business and Finance (FBF) | Master of Business Administration (Corporate Management) | Master Degree | Accounting, Business and Economics | Business Administration | Full Time: Min 1 year - Max 4 years Part Time: Min 2 year - Max 6 years | RM21,422 (Full time) RM22,231 (Part time) | Coursework Mode | (1) A Bachelor's Degree with Honours and CGPA of 2.50 and above or a Bachelor's Degree with CGPA of 2.50 and above, in any discipline from UTAR; or (2) A Bachelor's Degree with Honours and CGPA of 2.00 and above but less than 2.50 or a Bachelor's Degree with CGPA of 2.00 and above but less than 2.50, in any discipline from UTAR and show evidence of at least five (5) years of relevant working experience* (3) Any other academic qualifications equivalent to 1 or 2 and from another recognized University/Institution, as approved by the Senate** * Five (5) years working experience means any working experience after obtaining the qualification which period shall also include practical training and any industrial attachment. ** UTAR welcomes applicant who does not possess entry qualification as the above. Alternatively potential applicant can apply to our programme by using APEL In addition to the academic requirements a candidate is also required to possess an English Language certification - IELTS Academic : 6.0/equivalent | No |
| Faculty of Business and Finance (FBF) | Master of Business Administration | Master Degree | Accounting, Business and Economics | Business Administration | Full Time: Min 1 year - Max 4 years Part Time: Min 2 year - Max 6 years | RM20,929 (Full time) RM21,738 (Part time) | Coursework Mode | (1) A Bachelor's Degree with Honours and CGPA of 2.50 and above or a Bachelor's Degree with CGPA of 2.50 and above, in any discipline from UTAR; or (2) A Bachelor's Degree with Honours and CGPA of 2.00 and above but less than 2.50 or a Bachelor's Degree with CGPA of 2.00 and above but less than 2.50, in any discipline from UTAR and show evidence of at least five (5) years of relevant working experience* (3) Any other academic qualifications equivalent to 1 or 2 and from another recognized University/Institution, as approved by the Senate** * Five (5) years working experience means any working experience after obtaining the qualification which period shall also include practical training and any industrial attachment. ** UTAR welcomes applicant who does not possess entry qualification as the above. Alternatively potential applicant can apply to our programme by using APEL In addition to the academic requirements a candidate is also required to possess an English Language certification - IELTS Academic : 6.0/equivalent | No |
| Faculty of Business and Finance (FBF) | Master of Business Administration (Building Management) | Master Degree | Accounting, Business and Economics | Business Administration | Full Time: Min 1 year - Max 4 years Part Time: Min 2 year - Max 6 years | RM20,929 (Full time) RM21,738 (Part time) | Coursework Mode | (1) A Bachelor's Degree with Honours and CGPA of 2.50 and above or a Bachelor's Degree with CGPA of 2.50 and above, in any discipline from UTAR; or (2) A Bachelor's Degree with Honours and CGPA of 2.00 and above but less than 2.50 or a Bachelor's Degree with CGPA of 2.00 and above but less than 2.50, in any discipline from UTAR and show evidence of at least five (5) years of relevant working experience* (3) Any other academic qualifications equivalent to 1 or 2 and from another recognized University/Institution, as approved by the Senate** * Five (5) years working experience means any working experience after obtaining the qualification which period shall also include practical training and any industrial attachment. ** UTAR welcomes applicant who does not possess entry qualification as the above. Alternatively potential applicant can apply to our programme by using APEL In addition to the academic requirements a candidate is also required to possess an English Language certification - IELTS Academic : 6.0/equivalent | No |
| Faculty of Business and Finance (FBF) | Master of Business Administration (Corporate Governance) | Master Degree | Accounting, Business and Economics | Business Administration | Full Time: Min 1 year - Max 4 years Part Time: Min 2 year - Max 6 years | RM20,929 (Full time) RM21,738 (Part time) | Coursework Mode | (1) A Bachelor's Degree with Honours and CGPA of 2.50 and above or a Bachelor's Degree with CGPA of 2.50 and above, in any discipline from UTAR; or (2) A Bachelor's Degree with Honours and CGPA of 2.00 and above but less than 2.50 or a Bachelor's Degree with CGPA of 2.00 and above but less than 2.50, in any discipline from UTAR and show evidence of at least five (5) years of relevant working experience* (3) Any other academic qualifications equivalent to 1 or 2 and from another recognized University/Institution, as approved by the Senate** * Five (5) years working experience means any working experience after obtaining the qualification which period shall also include practical training and any industrial attachment. ** UTAR welcomes applicant who does not possess entry qualification as the above. Alternatively potential applicant can apply to our programme by using APEL In addition to the academic requirements a candidate is also required to possess an English Language certification - IELTS Academic : 6.0/equivalent | No |
| Faculty of Business and Finance (FBF) | Master of Real Estate Development | Master Degree | Accounting, Business and Economics | Real Estate and Property Development | Full Time: Min 1 year - Max 4 years Part Time: Min 2 year - Max 6 years | RM20,930 (Full time) RM21,740 (Part time) | Coursework Mode | (1) A Bachelor's Degree with Honours and CGPA of 2.75 and above or a Bachelor's Degree with CGPA of 2.75 and above in a related field from UTAR; or (2) A Bachelor's Degree with Honours and CGPA of 2.50 and above but less than 2.75 or a Bachelor's Degree with CGPA of 2.50 and above but less than 2.75 in a related field from UTAR and subjected to rigorous internal assessment; or (3) Bachelor's Degree with Honours and CGPA of 2.00 and above but less than 2.50 or a Bachelor's Degree with CGPA of 2.00 and above but less than 2.50 in a related field from UTAR, show evidence of at least five (5) years of relevant working experience and subjected to rigorous internal assessment; or (4). Any other academic qualifications equivalent to (1), (2) or (3) from another recognised University as approved by the Senate * Five (5) years working experience means any working experience after obtaining the qualification which period shall also include practical training and any industrial attachment. ** UTAR welcomes applicant who does not possess entry qualification as the above. Alternatively potential applicant can apply to our programme by using APEL In addition to the academic requirements a candidate is also required to possess an English Language certification - IELTS Academic : 6.0/equivalent | No |
| Faculty of Business and Finance (FBF) | Master of Philosophy | Master Degree | Accounting, Business and Economics | Accounting, Business and Economics | Full Time: Min 2 years - Max 4 years Part Time: Min 3 years - Max 6 years | RM8,350 (Full Time) RM9,150 (Part Time) | Research Mode | (1) A Bachelor's Degree with Honours and CGPA of 2.75 and above or a Bachelor's Degree with CGPA of 2.75 and above in a related field from UTAR; or (2) A Bachelor's Degree with Honours and CGPA of 2.50 and above but less than 2.75 or a Bachelor's Degree with CGPA of 2.50 and above but less than 2.75 in a related field from UTAR and subjected to rigorous internal assessment; or (3) A Bachelor's Degree with Honours and CGPA of 2.00 and above but less than 2.50 or a Bachelor's Degree with CGPA of 2.00 and above but less than 2.50 in a related field from UTAR, show evidence of at least five (5) years of relevant working experience and subjected to rigorous internal assessment; or (4) Any other academic qualifications equivalent to (1), (2) or (3) from another recognised University as approved by the Senate ** UTAR welcomes applicant who does not possess entry qualification as the above. Alternatively potential applicant can apply to our programme by using APEL | No |
| Faculty of Engineeering and Green Techonology (FEGT) | Master of Engineering (Electronic System) | Master Degree | Engineering, Technology and Built Environment | Engineering | Full Time: Min 1 year - Max 4 years Part Time: Min 2 year - Max 6 years | RM 17,409 (Full Time) RM 18,218 (Part Time) | Coursework Mode | (1) A Bachelor's Degree with Honours and CGPA of 2.75 and above or a Bachelor's Degree with CGPA of 2.75 and above in a related field from UTAR; or (2) A Bachelor's Degree with Honours and CGPA of 2.50 and above but less than 2.75 or a Bachelor's Degree with CGPA of 2.50 and above but less than 2.75 in a related field from UTAR and subjected to rigorous internal assessment; or (3) A Bachelor's Degree with Honours and CGPA of 2.00 and above but less than 2.50 or a Bachelor's Degree with CGPA of 2.00 and above but less than 2.50 in a related field from UTAR, show evidence of at least five (5) years of relevant working experience and subjected to rigorous internal assessment; or (4) Any other academic qualifications equivalent to (1), (2) or (3) from another recognised University as approved by the Senate ** UTAR welcomes applicant who does not possess entry qualification as the above. Alternatively potential applicant can apply to our programme by using APEL | No |
| Faculty of Engineeering and Green Techonology (FEGT) | Master of Sustainable Construction Management | Master Degree | Engineering, Technology and Built Environment | Engineering | Full Time: Min 1 year - Max 4 years Part Time: Min 2 year - Max 6 years | RM17,400 (Full Time) RM18,150 (Part Time) | Coursework Mode | (1) A Bachelor's Degree with Honours and CGPA of 2.75 and above or a Bachelor's Degree with CGPA of 2.75 and above in a related field from UTAR; or (2) A Bachelor's Degree with Honours and CGPA of 2.50 and above but less than 2.75 or a Bachelor's Degree with CGPA of 2.50 and above but less than 2.75 in a related field from UTAR and subjected to rigorous internal assessment; or (3) A Bachelor's Degree with Honours and CGPA of 2.00 and above but less than 2.50 or a Bachelor's Degree with CGPA of 2.00 and above but less than 2.50 in a related field from UTAR, show evidence of at least five (5) years of relevant working experience and subjected to rigorous internal assessment; or (4) Any other academic qualifications equivalent to (1), (2) or (3) from another recognised University as approved by the Senate ** UTAR welcomes applicant who does not possess entry qualification as the above. Alternatively potential applicant can apply to our programme by using APEL | No |
| Faculty of Engineeering and Green Techonology (FEGT) | Master of Environmental Technology | Master Degree | Engineering, Technology and Built Environment | Engineering | Full Time: Min 1 year - Max 4 years Part Time: Min 2 year - Max 6 years | RM17,350 (Full Time) RM17,950 (Part Time) | Coursework Mode | (1) A Bachelor's Degree with Honours and CGPA of 2.75 and above or a Bachelor's Degree with CGPA of 2.75 and above in a related field from UTAR; or (2) A Bachelor's Degree with Honours and CGPA of 2.50 and above but less than 2.75 or a Bachelor's Degree with CGPA of 2.50 and above but less than 2.75 in a related field from UTAR and subjected to rigorous internal assessment; or (3) A Bachelor's Degree with Honours and CGPA of 2.00 and above but less than 2.50 or a Bachelor's Degree with CGPA of 2.00 and above but less than 2.50 in a related field from UTAR, show evidence of at least five (5) years of relevant working experience and subjected to rigorous internal assessment; or (4) Any other academic qualifications equivalent to (1), (2) or (3) from another recognised University as approved by the Senate ** UTAR welcomes applicant who does not possess entry qualification as the above. Alternatively potential applicant can apply to our programme by using APEL | No |
| Faculty of Engineeering and Green Techonology (FEGT) | Master of Engineering Science | Master Degree | Engineering, Technology and Built Environment | Engineering | Full Time: Min 2 years - Max 4 years Part Time: Min 3 years - Max 6 years | RM8,350 (Full Time) RM9,150 (Part Time) | Research Mode | (1) A Bachelor's Degree with Honours and CGPA of 2.75 and above or a Bachelor's Degree with CGPA of 2.75 and above in a related field from UTAR; or (2) A Bachelor's Degree with Honours and CGPA of 2.50 and above but less than 2.75 or a Bachelor's Degree with CGPA of 2.50 and above but less than 2.75 in a related field from UTAR and subjected to rigorous internal assessment; or (3) A Bachelor's Degree with Honours and CGPA of 2.00 and above but less than 2.50 or a Bachelor's Degree with CGPA of 2.00 and above but less than 2.50 in a related field from UTAR, show evidence of at least five (5) years of relevant working experience and subjected to rigorous internal assessment; or (4) Any other academic qualifications equivalent to (1), (2) or (3) from another recognised University as approved by the Senate ** UTAR welcomes applicant who does not possess entry qualification as the above. Alternatively potential applicant can apply to our programme by using APEL | No |
| Faculty of Engineeering and Green Techonology (FEGT) | Master of Project Management | Master Degree | Engineering, Technology and Built Environment | Engineering | Full Time : Min 1 year - Max 4 years Part Time: Min 2 years - Max 6 years | RM17,300 (Full time) RM22,250 (Part time) | Coursework Mode | (1) A Bachelor's Degree with Honours and CGPA of 2.75 and above or a Bachelor's Degree with CGPA of 2.75 and above in any discipline field from UTAR; or (2) A Bachelor's Degree with Honours and CGPA of 2.50 and above but less than 2.75 or a Bachelor's Degree with CGPA of 2.50 and above but less than 2.75 in any discipline from UTAR and subjected to rigorous internal assessment; or (3) A Bachelor's Degree with Honours and CGPA of 2.00 and above but less than 2.50 or a Bachelor's Degree with CGPA of 2.00 and above but less than 2.50 in any discipline from UTAR, show evidence of at least five (5) years of relevant working experience and subjected to rigorous internal assessment; or (4) Any other academic qualifications equivalent to (1), (2) or (3) from another recognised University as approved by the Senate In addition to the academic requirment, an applicant is also required to meet the required English Language requirement before being admitted into the programme of study. | No |
| Faculty of Arts and Social Science (FAS) | Master of Strategic Communication | Master Degree | Arts, Social Sciences and Education | Media and Communication | Full Time : Min 1 year - Max 4 years Part Time: Min 2 years - Max 6 years | RM16,200 (Full Time) RM16,200 (Part Time) | Coursework Mode | (1) A Bachelor's Degree with Honours and CGPA of 2.75 and above or a Bachelor's Degree with CGPA of 2.75 and above in a related field from UTAR; or (2) A Bachelor's Degree with Honours and CGPA of 2.50 and above but less than 2.75 or a Bachelor's Degree with CGPA of 2.50 and above but less than 2.75 in a related field from UTAR and subjected to rigorous internal assessment; or (3) A Bachelor's Degree with Honours and CGPA of 2.00 and above but less than 2.50 or a Bachelor's Degree with CGPA of 2.00 and above but less than 2.50 in a related field from UTAR, show evidence of at least five (5) years of relevant working experience and subjected to rigorous internal assessment; or (4) Any other academic qualifications equivalent to (1), (2) or (3) from another recognised University as approved by the Senate ** UTAR welcomes applicant who does not possess entry qualification as the above. Alternatively potential applicant can apply to our programme by using APEL | No |
| Faculty of Arts and Social Science (FAS) | Master of Psychology (Industrial & Organisational Psychology) | Master Degree | Arts, Social Sciences and Education | Psychology | Full Time: Min 1.5 years - Max 4 years Part Time: Min 2 years - Max 6 years | RM11,500 (Full Time) RM11,500 (Part Time) | Mixed Mode | (1) A Bachelor's Degree in Psychology or its equivalent with minimum CGPA 2.75 out of 4.00; or Note: A Bachelor's Degree in Psychology not meeting CGPA of 2.75 (but not lower than 2.5) can be accepted subject to rigorous internal assessment by an independent review panel. (2) A Bachelor's Degree with minimum CGPA 2.75 out of 4.00 in any field, and a minimum 45 credits of prerequisites modules in Psychology or its equivalent (covering all eight Knowledge Areas highlighted in pages 13 – 14 of Programme Standards: Psychology) with a minimum CGPA 2.75 out of 4.00 in the prerequisites modules; or (3) A Bachelor's Degree with minimum CGPA 2.75 out of 4.00 in any field, and a minimum 30 credits of prerequisites modules in Psychology or its equivalent (covering all eight Knowledge Areas highlighted in pages 13 -14 of Programme Standards: Psychology) with a minimum CGPA 2.75 out of 4.00 in the prerequisites modules, and a Graduate Record Examination (GRE) Subject Test (Psychology) with a minimum score of 550; or (4) Other relevant or equivalent qualification. ** UTAR welcomes applicant who does not possess entry qualification as the above. Alternatively potential applicant can apply to our programme by using APEL | No |
| Faculty of Arts and Social Science (FAS) | Master of Philosophy (Social Science) | Master Degree | Arts, Social Sciences and Education | Social Science | Full Time: Min 2 years - Max 4 years Part Time: Min 3 years - Max 6 years | RM8,350 (Full Time) RM9,150 (Part Time) | Research Mode | (1) A Bachelor's Degree with Honours and CGPA of 2.75 and above or a Bachelor's Degree with CGPA of 2.75 and above in a related field from UTAR; or (2) A Bachelor's Degree with Honours and CGPA of 2.50 and above but less than 2.75 or a Bachelor's Degree with CGPA of 2.50 and above but less than 2.75 in a related field from UTAR and subjected to rigorous internal assessment; or (3) A Bachelor's Degree with Honours and CGPA of 2.00 and above but less than 2.50 or a Bachelor's Degree with CGPA of 2.00 and above but less than 2.50 in a related field from UTAR, show evidence of at least five (5) years of relevant working experience and subjected to rigorous internal assessment; or (4) Any other academic qualifications equivalent to (1), (2) or (3) from another recognised University as approved by the Senate ** UTAR welcomes applicant who does not possess entry qualification as the above. Alternatively potential applicant can apply to our programme by using APEL | No |
| Faculty of Information and Communication Technology (FICT) | Master of Science (Computer Science) | Master Degree | Information and Communication Technology | Computer Science | Full Time: Min 2 years - Max 4 years Part Time: Min 3 years - Max 6 years | RM8,350 (Full Time) RM9,150 (Part Time) | Research Mode | 1) A Bachelor's Degree of Computing or in the area of science and technology or related to computing, with a minimum CGPA of 3.00; or (2) A Bachelor's Degree of Computing or in the area of science and technology or related to computing, with CGPA below 3.00 but above 2.50, can be accepted subject to rigorous internal assessment; or (3) A Bachelor's Degree of Computing or in the area of science and technology or related to computing, with CGPA less than 2.50, with a minimum of 5 years working experience in a relevant field and subjected to rigorous assessment; or (4) Any other academic qualifications equivalent to (1), (2) or (3) from another recognised University as approved by the Senate ** UTAR welcomes applicant who does not possess entry qualification as the above. Alternatively potential applicant can apply to our programme by using APEL | No |
| Faculty of Science (FSc) | Master of Science | Master Degree | Life and Physical Sciences; Mathematics and Process Management | Sciences | Full Time: Min 2 years - Max 4 years Part Time: Min 3 years - Max 6 years | RM11,150 (Full Time) RM11,900 (Part Time) | Research Mode | (1) A Bachelor's Degree with Honours and CGPA of 2.75 and above or a Bachelor's Degree with CGPA of 2.75 and above in a related field from UTAR; or (2) A Bachelor's Degree with Honours and CGPA of 2.50 and above but less than 2.75 or a Bachelor's Degree with CGPA of 2.50 and above but less than 2.75 in a related field from UTAR and subjected to rigorous internal assessment; or (3) A Bachelor's Degree with Honours and CGPA of 2.00 and above but less than 2.50 or a Bachelor's Degree with CGPA of 2.00 and above but less than 2.50 in a related field from UTAR, show evidence of at least five (5) years of relevant working experience and subjected to rigorous internal assessment; or (4) Any other academic qualifications equivalent to (1), (2) or (3) from another recognised University as approved by the Senate ** UTAR welcomes applicant who does not possess entry qualification as the above. Alternatively potential applicant can apply to our programme by using APEL | No |
| Lee Kong Chian Faculty of Engineering and Science | Master of Mathematics | Master Degree | Engineering, Technology and Built Environment | Mathematics | Full Time: Min 1.5 years - Max 4 years Part Time: Min 2 years - Max 6 years | RM18,150 (Full time) RM22,250 (Part time) | Coursework Mode | (1) A Bachelor's Degree with Honours and CGPA of 2.75 and above or a Bachelor's Degree with CGPA of 2.75 and above in a related field from UTAR; or (2) A Bachelor's Degree with Honours and CGPA of 2.50 and above but less than 2.75 or a Bachelor's Degree with CGPA of 2.50 and above but less than 2.75 in a related field from UTAR and subjected to rigorous internal assessment; or (3) A Bachelor's Degree with Honours and CGPA of 2.00 and above but less than 2.50 or a Bachelor's Degree with CGPA of 2.00 and above but less than 2.50 in a related field from UTAR, show evidence of at least five (5) years of relevant working experience and subjected to rigorous internal assessment; or (4) Any other academic qualifications equivalent to (1), (2) or (3) from another recognised University as approved by the Senate | No |
| Lee Kong Chian Faculty of Engineering and Science | Master of Architecture | Master Degree | Engineering, Technology and Built Environment | Architecture | Full Time: Min 2 year - Max 4 years | RM 26,218 (Full time) | Coursework Mode | (1) A Bachelor's Degree with Honours and CGPA of 2.75 and above or a Bachelor's Degree with CGPA of 2.75 and above in a related field from UTAR; or (2) A Bachelor's Degree with Honours and CGPA of 2.00 and above but less than 2.75 or a Bachelor's Degree with CGPA of 2.00 and above but less than 2.75 in the relevant field of study from UTAR and subjected to rigorous assessment; or (3) Any other qualifications equivalent to (i) and (ii) as recognized by the Senate and Board of Architects Malaysia; and at least six months of post degree Practical Experience in a registered architect's office evidenced in a log book; and a portfolio (Working & Study portfolio) for submission and assessment Note: 1.The applicant must meet the requirements of LAM Part 1 and should attach with evidence of a letter on LAM Part 1 Accreditation from the origin Universities/ Institutions. 2.Application form should attached with the evidenced in a log book (A4 size report) on the post degree Practical Experience in a registered architect's office ; and a portfolio (Min A3 size, hardcopy in color) | No |
| Lee Kong Chian Faculty of Engineering and Science | Master of Information Systems | Master Degree | Engineering, Technology and Built Environment | Information Systems | Full Time: Min 1 years - Max 4 years Part Time: Min 2 years - Max 6 years | RM17,359 (Full time) RM 18,118 (Part time) | Coursework Mode | (1) A Bachelor's Degree with Honours and CGPA of 2.75 and above or a Bachelor's Degree with CGPA of 2.75 and above in a related field from UTAR; or (2) A Bachelor's Degree with Honours and CGPA of 2.50 and above but less than 2.75 or a Bachelor's Degree with CGPA of 2.50 and above but less than 2.75 in a related field from UTAR and subjected to rigorous internal assessment; or (3) A Bachelor's Degree with Honours and CGPA of 2.00 and above but less than 2.50 or a Bachelor's Degree with CGPA of 2.00 and above but less than 2.50 in a related field from UTAR, show evidence of at least five (5) years of relevant working experience and subjected to rigorous internal assessment; or (4) Any other academic qualifications equivalent to (1), (2) or (3) from another recognised University as approved by the Senate Note: For candidates without Computing Degree, prerequisite modules in computing must be offered to adequately prepare them for their advanced study. | No |
| Lee Kong Chian Faculty of Engineering and Science | Master of Engineering (Mechanical) | Master Degree | Engineering, Technology and Built Environment | Mechanical Engineering | Full Time: Min 1 year - Max 4 years Part Time: Min 2 year - Max 6 years | RM17,359 (Full time) RM 18,118 (Part time) | Coursework Mode | (1) A Bachelor's Degree with Honours and CGPA of 2.75 and above or a Bachelor's Degree with CGPA of 2.75 and above in a related field from UTAR; or (2) A Bachelor's Degree with Honours and CGPA of 2.50 and above but less than 2.75 or a Bachelor's Degree with CGPA of 2.50 and above but less than 2.75 in a related field from UTAR and subjected to rigorous internal assessment; or (3) A Bachelor's Degree with Honours and CGPA of 2.00 and above but less than 2.50 or a Bachelor's Degree with CGPA of 2.00 and above but less than 2.50 in a related field from UTAR, show evidence of at least five (5) years of relevant working experience and subjected to rigorous internal assessment; or (4) Any other academic qualifications equivalent to (1), (2) or (3) from another recognised University as approved by the Senate | No |
| Lee Kong Chian Faculty of Engineering and Science | Master of Engineering (Electrical) | Master Degree | Engineering, Technology and Built Environment | Electrical Engineering | Full Time: Min 1 year - Max 4 years Part Time: Min 2 year - Max 6 years | RM18,169 (Full time) RM18,928 (Part time) | Coursework Mode | (1) A Bachelor's Degree with Honours and CGPA of 2.75 and above or a Bachelor's Degree with CGPA of 2.75 and above in a related field from UTAR; or (2) A Bachelor's Degree with Honours and CGPA of 2.50 and above but less than 2.75 or a Bachelor's Degree with CGPA of 2.50 and above but less than 2.75 in a related field from UTAR and subjected to rigorous internal assessment; or (3) A Bachelor's Degree with Honours and CGPA of 2.00 and above but less than 2.50 or a Bachelor's Degree with CGPA of 2.00 and above but less than 2.50 in a related field from UTAR, show evidence of at least five (5) years of relevant working experience and subjected to rigorous internal assessment; or (4) Any other academic qualifications equivalent to (1), (2) or (3) from another recognised University as approved by the Senate | No |
| Lee Kong Chian Faculty of Engineering and Science | Master of Engineering Science | Master Degree | Engineering, Technology and Built Environment | Engineering Science | Full Time: Normal 2year - Max 4 years Part Time: Norma 3 years - Max 6 years | RM8,350 (Full time) RM9,300 (Part time) | Research Mode | (1) A Bachelor's Degree with Honours and CGPA of 2.75 and above or a Bachelor's Degree with CGPA of 2.75 and above in a related field from UTAR; or (2) A Bachelor's Degree with Honours and CGPA of 2.50 and above but less than 2.75 or a Bachelor's Degree with CGPA of 2.50 and above but less than 2.75 in a related field from UTAR and subjected to rigorous internal assessment; or (3) A Bachelor's Degree with Honours and CGPA of 2.00 and above but less than 2.50 or a Bachelor's Degree with CGPA of 2.00 and above but less than 2.50 in a related field from UTAR, show evidence of at least five (5) years of relevant working experience and subjected to rigorous internal assessment; or (4) Any other academic qualifications equivalent to (1), (2) or (3) from another recognised University as approved by the Senate | No |
| Lee Kong Chian Faculty of Engineering and Science | Master of Science | Master Degree | Life and Physical Sciences; Mathematics and Process Management | Sciences | Full Time: Min 2 years - Max 4 years Part Time: Min 3 years - Max 6 years | RM 8,350 (Full time) RM9,300 (Part time) | Research Mode | (1) A Bachelor's Degree with Honours and CGPA of 2.75 and above or a Bachelor's Degree with CGPA of 2.75 and above in a related field from UTAR; or (2) A Bachelor's Degree with Honours and CGPA of 2.50 and above but less than 2.75 or a Bachelor's Degree with CGPA of 2.50 and above but less than 2.75 in a related field from UTAR and subjected to rigorous internal assessment; or (3) A Bachelor's Degree with Honours and CGPA of 2.00 and above but less than 2.50 or a Bachelor's Degree with CGPA of 2.00 and above but less than 2.50 in a related field from UTAR, show evidence of at least five (5) years of relevant working experience and subjected to rigorous internal assessment; or (4) Any other academic qualifications equivalent to (1), (2) or (3) from another recognised University as approved by the Senate | No |
| Faculty of Creative Industries | Master of Communication | Master Degree | Arts, Social Sciences and Education | Social Science | Full Time: Min 1.5years - Max 4years Part Time: Min 2years - Max 6years | RM10,800 (Full time) RM11,200 (Part time) | Mixed Mode | (1) A Bachelor's Degree with Honours and CGPA of 2.75 and above or a Bachelor's Degree with CGPA of 2.75 and above in a related field from UTAR, or (2) A Bachelor's Degree with Honours and CGPA of 2.50 and above but less than 2.75 or a Bachelor's Degree with CGPA of 2.50 and above but less than 2.75 in a related field from UTAR and subjected to rigorous assessment; or (3) A Bachelor's Degree with Honours and CGPA of 2.00 and above but less than 2.50 or a Bachelor's Degree with CGPA of 2.00 and above but less than 2.50 in a related field from UTAR, show evidence of at least five (5) years of relevant working or research experience and subjected to rigorous assessment; or (4) Any other academic qualifications equivalent to (1), (2) or (3) from another recognised University, as approved by the Senate. In addition to the academic requirment, an applicant is also required to meet the required English Language requirement (view here)before being admitted into the programme of study. | No |
| Faculty of Creative Industries | Master of Arts (Communication) | Master Degree | Arts, Social Sciences and Education | Social Science | Full Time: Normal 2years - Max 4years Part Time: Normal 3years - Max 6years | RM8,100 (Full time) RM8,700 (Part time) | Research Mode | (1) A Bachelor's Degree with Honours and CGPA of 2.75 and above or a Bachelor's Degree with CGPA of 2.75 and above in a related field from UTAR, or (2) A Bachelor's Degree with Honours and CGPA of 2.50 and above but less than 2.75 or a Bachelor's Degree with CGPA of 2.50 and above but less than 2.75 in a related field from UTAR and subjected to rigorous assessment; or (3) A Bachelor's Degree with Honours and CGPA of 2.00 and above but less than 2.50 or a Bachelor's Degree with CGPA of 2.00 and above but less than 2.50 in a related field from UTAR, show evidence of at least five (5) years of relevant working or research experience and subjected to rigorous assessment; or (4) Any other academic qualifications equivalent to (1), (2) or (3) from another recognised University, as approved by the Senate. In addition to the academic requirment, an applicant is also required to meet the required English Language requirement (view here)before being admitted into the programme of study. | No |
| Institute Of Chinese Studies | Master of Chinese Studies | Master Degree | Chinese Studies | Chinese Studies | Full Time: Min 1.5 years - Max 4 years Part Time: Min 2 years - Max 6 years | RM8,450 (Full time) RM11,550 (Part time) | Mixed Mode | (1) a Bachelor's Degree with Honours and CGPA of 2.75 and above or a Bachelor's Degree with CGPA of 2.75 and above in a related field from UTAR; or (2) a Bachelor's Degree with Honours and CGPA of 2.50 and above but less than 2.75 or a Bachelor's Degree with CGPA of 2.50 and above but less than 2.75 in a related field from UTAR and subjected to rigorous internal assessment; or (3) a Bachelor's Degree with Honours and CGPA of 2.00 and above but less than 2.50 or a Bachelor's Degree with CGPA of 2.00 and above but less than 2.50 in a related field from UTAR, show evidence of at least five (5) years of relevant working experience and subjected to rigorous internal assessment; or (4) Any other academic qualifications equivalent to (1), (2) or (3) from another recognised University as approved by the Senate | No |
| Institute Of Chinese Studies | Master (Arts) of Chinese Studies | Master Degree | Chinese Studies | Chinese Studies | Full Time: Normal 2 years - Max 4 years Part Time: Normal 3 years - Max 6 years | RM7,750 (Full time) RM 8,550 (Part time) | Research Mode | (1) a Bachelor's Degree with Honours and CGPA of 2.75 and above or a Bachelor's Degree with CGPA of 2.75 and above in a related field from UTAR; or (2) a Bachelor's Degree with Honours and CGPA of 2.50 and above but less than 2.75 or a Bachelor's Degree with CGPA of 2.50 and above but less than 2.75 in a related field from UTAR and subjected to rigorous internal assessment; or (3) a Bachelor's Degree with Honours and CGPA of 2.00 and above but less than 2.50 or a Bachelor's Degree with CGPA of 2.00 and above but less than 2.50 in a related field from UTAR, show evidence of at least five (5) years of relevant working experience and subjected to rigorous internal assessment; or (4) any other academic qualifications equivalent to (1), (2) or (3) from another recognised University as approved by the Senate | No |
| Faculty of Accountancy and Management | Master of Philosophy | Master Degree | Accounting, Business and Economics | Accounting, Business and Economics | Full Time: Min 2 years - Max 4 years Part Time: Min 3 years - Max 6 years | RM8,350 (Full time) RM9,150 (Part time) | Research Mode | (1) A Bachelor's Degree with Honours and CGPA of 2.75 and above or a Bachelor's Degree with CGPA of 2.75 and above in a related field from UTAR; or (2) A Bachelor's Degree with Honours and CGPA of 2.50 and above but less than 2.75 or a Bachelor's Degree with CGPA of 2.50 and above but less than 2.75 in a related field from UTAR and subjected to rigorous internal assessment; or (3) A Bachelor's Degree with Honours and CGPA of 2.00 and above but less than 2.50 or a Bachelor's Degree with CGPA of 2.00 and above but less than 2.50 in a related field from UTAR, show evidence of at least five (5) years of relevant working experience and subjected to rigorous internal assessment; or (4) Any other academic qualifications equivalent to (1), (2) or (3) from another recognised University as approved by the Senate | No |
| Faculty of Medicine and Health Sciences | Master of Medical Science | Master Degree | Medicine and Health Sciences | Medicine and Health Sciences | Full Time: Min 2 years - Max 4 years Part Time: Min 3 years - Max 6 years | RM 8,350 (Full time) RM 9,150 (Part time) | Research Mode | (1) A Bachelor's Degree with Honours and CGPA of 2.75 and above or a Bachelor's Degree with CGPA of 2.75 and above in a related field from UTAR; or (2) A Bachelor's Degree with Honours and CGPA of 2.50 and above but less than 2.75 or a Bachelor's Degree with CGPA of 2.50 and above but less than 2.75 in a related field from UTAR and subjected to rigorous internal assessment; or (3) A Bachelor's Degree with Honours and CGPA of 2.00 and above but less than 2.50 or a Bachelor's Degree with CGPA of 2.00 and above but less than 2.50 in a related field from UTAR, show evidence of at least five (5) years of relevant working experience and subjected to rigorous internal assessment; or (4) Any other academic qualifications equivalent to (1), (2) or (3) from another recognised University as approved by the Senate | No |
| | | | | | | | | | |
| --- | --- | --- | --- | --- | --- | --- | --- | --- | --- |
| Faculty | Programme Name | Level | Field | Major | Year | Local Fee | Mode of Studies | Minimum Entry Requirements | Scholarship |
| Faculty of Business and Finance (FBF) | Doctor of Philosophy | Doctor of Philosophy | Accounting, Business and Economics | Accounting, Business and Economics | Full Time: Min 3 years - Max 6 years Part Time: Min 4 years - Max 8 years | RM11,150 (Full Time) RM11,900 (Part Time) | Research mode | (1) A Master's Degree from UTAR and shows evidence of adequate related research or work experience to satisfaction of Senate; or (2) A Master's Degree of another university or equivalent qualification from an institution as approved by Senate and shows evidence of adequate related research or work experience to satisfaction of Senate; or (3) A Bachelor's degree from UTAR with First Class Honours or with a minimum CGPA of 3.67 and show evidence of related research aptitude to the satisfaction of the Senate; or (4) A Bachelor's degree of another university or equivalent qualification from an institution with First Class Honours or with a minimum CGPA of 3.67 as approved by the Senate and shows evidence of related research aptitude to the satisfaction of the Senate; or (5) Any other qualifications equivalent to (1), (2) ,(3) or (4) as approved by the Senate | No |
| Faculty of Arts and Social Science (FAS) | Doctor of Philosophy (Social Science) | Doctor of Philosophy | Arts, Social Sciences and Education | Social Science | Full Time: Min 3 years - Max 6 years Part Time: Min 4 years - Max 8 years | RM9,900 (Full Time) RM10,700 (Part Time) | Research mode | (1) A Master's Degree from UTAR and shows evidence of adequate related research or work experience to satisfaction of Senate; or (2) A Master's Degree of another university or equivalent qualification from an institution as approved by Senate and shows evidence of adequate related research or work experience to satisfaction of Senate; or (3) A Bachelor's degree from UTAR with First Class Honours or with a minimum CGPA of 3.67 and show evidence of related research aptitude to the satisfaction of the Senate; or (4) A Bachelor's degree of another university or equivalent qualification from an institution with First Class Honours or with a minimum CGPA of 3.67 as approved by the Senate and shows evidence of related research aptitude to the satisfaction of the Senate; or (5) Any other qualifications equivalent to (1), (2) ,(3) or (4) as approved by the Senate. | No |
| Faculty of Engineering And Green Technology (FEGT) | Doctor of Philosophy (Enginieering) | Doctor of Philosophy | Engineering, Technology and Built Environment | Engineering | Full Time: Min 3 years - Max 6 years Part Time: Min 4 years - Max 8 years | RM11,150 (Full Time) RM11,900 (Part Time) | Research mode | (1) A Master's Degree from UTAR and shows evidence of adequate related research or work experience to satisfaction of Senate; or (2) A Master's Degree of another university or equivalent qualification from an institution as approved by Senate and shows evidence of adequate related research or work experience to satisfaction of Senate; or (3) A Bachelor's degree from UTAR with First Class Honours or with a minimum CGPA of 3.67 and show evidence of related research aptitude to the satisfaction of the Senate; or (4) A Bachelor's degree of another university or equivalent qualification from an institution with First Class Honours or with a minimum CGPA of 3.67 as approved by the Senate and shows evidence of related research aptitude to the satisfaction of the Senate; or (5) Any other qualifications equivalent to (1), (2) ,(3) or (4) as approved by the Senate. | No |
| Faculty of Science (FSc) | Doctor of Philosophy (Science) | Doctor of Philosophy | Life and Physical Sciences; Mathematics and Process Management | Science | Full Time: Min 3 years - Max 6 years Part Time: Min 4 years - Max 8 years | RM8,350 (Full time) RM8,350 (Part time) | Research mode | (1) A Master's Degree from UTAR and shows evidence of adequate related research or work experience to satisfaction of Senate; or (2) A Master's Degree of another university or equivalent qualification from an institution as approved by Senate and shows evidence of adequate related research or work experience to satisfaction of Senate; or (3) A Bachelor's degree from UTAR with First Class Honours or with a minimum CGPA of 3.67 and show evidence of related research aptitude to the satisfaction of the Senate; or (4) A Bachelor's degree of another university or equivalent qualification from an institution with First Class Honours or with a minimum CGPA of 3.67 as approved by the Senate and shows evidence of related research aptitude to the satisfaction of the Senate; or (5) Any other qualifications equivalent to (1), (2) ,(3) or (4) as approved by the Senate. | No |
| Faculty of Information and Communication Technology (FICT) | Doctor of Philosophy (Computer Science) | Doctor of Philosophy | Information and Communication Technology | Computer Science | Full Time: Min 3 years - Max 6 years Part Time: Min 4 years - Max 8 years | RM11,150 (Full Time) RM11,900 (Part Time) | Research mode | (1) A Master's Degree from UTAR and shows evidence of adequate related research or work experience to satisfaction of Senate; or (2) A Master's Degree of another university or equivalent qualification from an institution as approved by Senate and shows evidence of adequate related research or work experience to satisfaction of Senate; or (3) A Bachelor's degree from UTAR with First Class Honours or with a minimum CGPA of 3.67 and show evidence of related research aptitude to the satisfaction of the Senate; or (4) A Bachelor's degree of another university or equivalent qualification from an institution with First Class Honours or with a minimum CGPA of 3.67 as approved by the Senate and shows evidence of related research aptitude to the satisfaction of the Senate; or (5) Any other qualifications equivalent to (1), (2) ,(3) or (4) as approved by the Senate. | No |
| Faculty of Accountancy and Management | Doctor of Philosophy | Doctor of Philosophy | Accounting, Business and Economics | Accounting, Business and Economics | Full Time: Min 3 years - Max 6 years Part Time: Min 4 years - Max 8 years | RM11,230 (Full time) RM 12,100 (Part time) | Research mode | (1) A Master's Degree from UTAR and shows evidence of adequate related research or work experience to satisfaction of Senate; or (2) A Master's Degree of another university or equivalent qualification from an institution as approved by Senate and shows evidence of adequate related research or work experience to satisfaction of Senate; or (3) a Bachelor's degree from UTAR with First Class Honours or with a minimum CGPA of 3.67 and show evidence of related research aptitude to the satisfaction of the Senate; or (4) a Bachelor's degree of another university or equivalent qualification from an institution with First Class Honours or with a minimum CGPA of 3.67 as approved by the Senate and shows evidence of related research aptitude to the satisfaction of the Senate; or (5) any other qualifications equivalent to (1), (2) ,(3) or (4) as approved by the Senate. | No |
| Faculty of Creative Industries | Doctor of Philosophy (Creative Arts) | Doctor of Philosophy | Creative Industries and Design | Creative Arts | Full Time: Min 3 years - Max 6 years Part Time: Min 4 years - Max 8 years | RM9,900 (Full time) RM 10,700 (Part time) | Research mode | (1) A Master's Degree from UTAR and shows evidence of adequate related research or work experience to satisfaction of Senate; or (2) A Master's Degree of another university or equivalent qualification from an institution as approved by Senate and shows evidence of adequate related research or work experience to satisfaction of Senate; or (3) A Bachelor's degree from UTAR with First Class Honours or with a minimum CGPA of 3.67 and show evidence of related research aptitude to the satisfaction of the Senate; or (4) A Bachelor's degree of another university or equivalent qualification from an institution with First Class Honours or with a minimum CGPA of 3.67 as approved by the Senate and shows evidence of related research aptitude to the satisfaction of the Senate; or (5) Any other qualifications equivalent to (1), (2) ,(3) or (4) as approved by the Senate. | No |
| Lee Kong Chian Faculty of Engineering and Science (LKCFES) | Doctor of Philosophy (Engineering) | Doctor of Philosophy | Engineering, Technology and Built Environment | Engineering | Full Time: Min 3 years - Max 6 years Part Time: Min 4 years - Max 8 years | RM11,150 (Full time) RM 11,900 (Part time) | Research mode | 1) A Master's degree from UTAR and shows evidence of adequate related research or work experience to the satisfaction of the Senate; (2) A Master's degree of another university or equivalent qualification from an institution as approved by the Senate and shows evidence of adequate related research or work experience to the satisfaction of the Senate; or (3) ABachelor's degree from UTAR with First Class Honours or with a minimum CGPA of 3.67 and show evidence of related research aptitude to the satisfaction of the Senate; or (4) A Bachelor's degree of another university or equivalent qualification from an institution with First Class Honours or with a minimum CGPA of 3.67 as approved by the Senate and shows evidence of related research aptitude to the satisfaction of the Senate; or (5) Any other qualifications equivalent to (1), (2) ,(3) or (4) as approved by the Senate. | No |
| Lee Kong Chian Faculty of Engineering and Science | Doctor of Philosophy (Science) | Doctor of Philosophy | Engineering, Technology and Built Environment | Science | Full Time : Min 3 years - Max 6 years Part Time: Min 4 years - Max 8 years | RM11,150 (Full time) RM11,150 (Part time) | Research mode | (1) A Master's Degree from UTAR and shows evidence of adequate related research or work experience to satisfaction of Senate; or (2) A Master's Degree of another university or equivalent qualification from an institution as approved by Senate and shows evidence of adequate related research or work experience to satisfaction of Senate; or (3) A Bachelor's degree from UTAR with First Class Honours or with a minimum CGPA of 3.67 and show evidence of related research aptitude to the satisfaction of the Senate; or (4) A Bachelor's degree of another university or equivalent qualification from an institution with First Class Honours or with a minimum CGPA of 3.67 as approved by the Senate and shows evidence of related research aptitude to the satisfaction of the Senate; or (5) Any other qualifications equivalent to (1), (2) ,(3) or (4) as approved by the Senate. | No |
| Institute Of Chinese Studies | Doctor of Philosophy (Chinese Studies) | Doctor of Philosophy | Chinese Studies | Chinese Studies | Full Time : Min 3 years - Max 6 years Part Time: Min 4 years - Max 8 years | RM11,450 - RM12,200 (Full time) | Research mode | (1) A Master's Degree from UTAR and shows evidence of adequate related research or work experience to satisfaction of Senate; or (2) A Master's Degree of another university or equivalent qualification from an institution as approved by Senate and shows evidence of adequate related research or work experience to satisfaction of Senate; or (3) A Bachelor's degree from UTAR with First Class Honours or with a minimum CGPA of 3.67 and show evidence of related research aptitude to the satisfaction of the Senate; or . (4) A Bachelor's degree of another university or equivalent qualification from an institution with First Class Honours or with a minimum CGPA of 3.67 as approved by the Senate and shows evidence of related research aptitude to the satisfaction of the Senate; or (5) any other qualifications equivalent to (1), (2) ,(3) or (4) as approved by the Senate. Credit in SMP/O-level/UEC Chinese Language Examination - Pass in STPM Chinese Language; - Minimum grade A (Level 8) in Chinese Proficiency Test: HSK (The Intermediate Certificate); - Minimum level 5 in Test Of Proficiency- Huayu: TOP (Advanced level); - Level 5 (minimum 210 marks, maximum 300 out of 300 marks) in China's New Hàny? Shu?píng K?oshì (New HSK)/ New Chinese Proficiency Test (from 2010 onwards); - Level 5 in Test of Chinese as a Foreign Language (TOCFL) (from 2013 onward) | No |
| Faculty of Medicine and Health Sciences | Doctor Of Philosophy (Medical Science) | Doctor of Philosophy | Medicine and Health Sciences | Medicine and Health Sciences | Full Time: Normal 3 years - Max 6 years Part Time: Normal 4 years - Max 8 years | RM 11,150 (Full time) RM 11,886 (Part time) | Research mode | (1) A Master's Degree from UTAR and shows evidence of adequate related research or work experience to satisfaction of Senate; or (2) A Master's Degree of another university or equivalent qualification from an institution as approved by Senate and shows evidence of adequate related research or work experience to satisfaction of Senate; or (3) A Bachelor's degree from UTAR with First Class Honours or with a minimum CGPA of 3.67 and show evidence of related research aptitude to the satisfaction of the Senate; or (4) A Bachelor's degree of another university or equivalent qualification from an institution with First Class Honours or with a minimum CGPA of 3.67 as approved by the Senate and shows evidence of related research aptitude to the satisfaction of the Senate; or (5) any other qualifications equivalent to (1), (2) ,(3) or (4) as approved by the Senate. | No |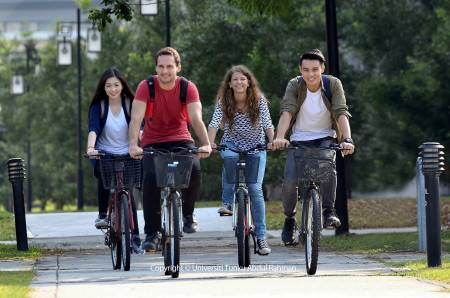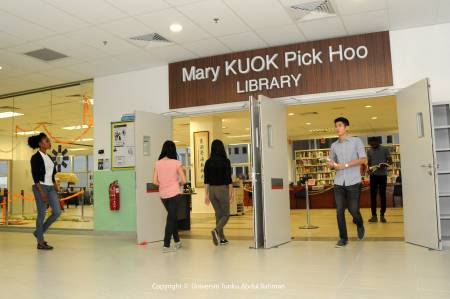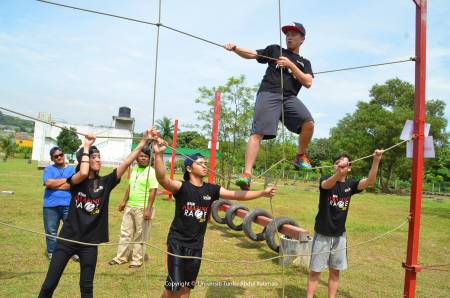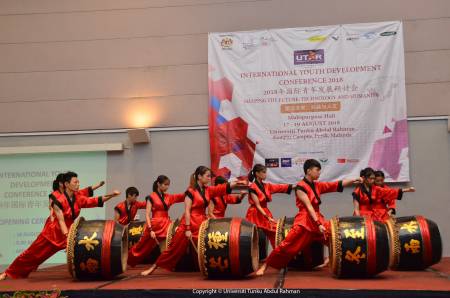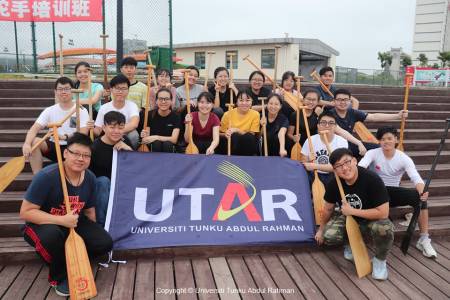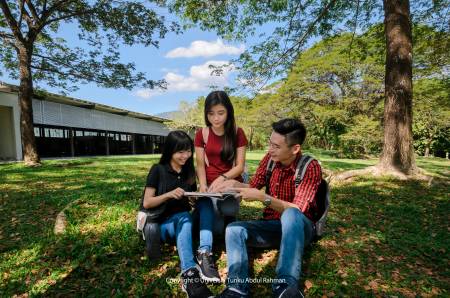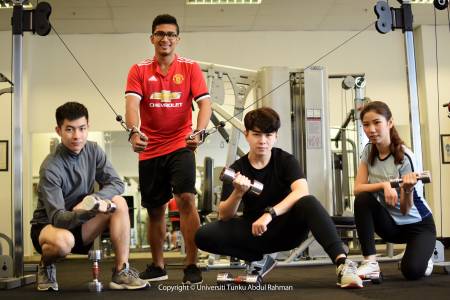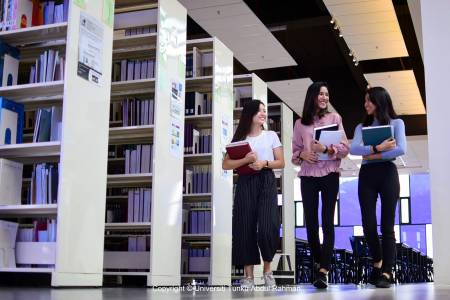 Back to Hall